Another great National Show weekend for your NE Georgia club. 5 club cars made the drive to St. Augustine, FL to attend the MCA Ancient City National Mustang Show and we received 4 Gold Awards and a Silver Award for our efforts.
Congratulations to Ken Shoufler and Lisa Nemoga, Rick and Georgianna Schmidt and Rick and Cher Hayslip for receiving a Gold Award each in their respective Occasionally Driven classes.
Congratulations to Steve and Jan Harrison and Richard and Shirley Ryder for their Gold and Silver Award respectively in their Modified classes.
Mother Nature was not nice to us, after several days of cleaning our Mustangs in preparation for this year's enhanced MCA judging, this is the weather that greeted us for a couple of hours on I-75 south of Macon. If you look closely at Cher's picture you can just make out Ken's Mach 1 in the rain spray.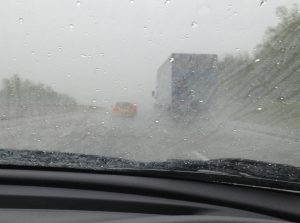 We made it to the show site and the re-cleaning begins with the local forecast calling for even more rain over the show days of Friday and Saturday. This is one of those times that we were glad that the forecasters got it, for the most part, wrong. While we did have some heavy sprinkles the heaviest rain missed the show site, that is until Sunday morning when only a 10% chance of rain was forecast, oh well.
The show was held on the beautiful grounds of the Florida School for the Deaf and Blind.  For more information on this historic school visit their site: http://www.fsdb.k12.fl.us/
Members chilling after their Mustangs were judged.
See more pictures from this show on the Galleries page.