The Northeast Georgia Mustang Club received its MCA Regional Charter on May 8, 1990.
The organizational meeting was held on July 25 with about 20 MCA members present. Ricky Simmons was elected President and David Irvin was elected Vice-President. Kitty Wilmot was elected Secretary and Randy Church was elected treasurer. Tim Holland was selected to be the MCA National Director.
Jacky Jones Ford was the sponsoring Ford Dealership and 20 $100 Charter memberships were made available.
Our first show as NEGMC was held at Chateau Elan on April 13, 1991. This was originally a Georgia Regional Show that was started in 1989. Registration was $15 and included a T-Shirt.
Below is a brief overview of the creation of the Northeast Georgia Mustang Club as provided by founding member Carole Church in October 2018.

Randy Church worked at Arrington Blount Ford in Lawrenceville, driving from Habersham County for over 20 years. Randy met Jim Osborn of Osborn Reproductions and they become good friends based on a common interest in Mustangs. Ricky Simmons lived in Habersham County and he and Randy were long time friends, who also shared a common interest in vintage Ford vehicles. The three become good friends and traveled to many Mustang shows together.
Randy, Ricky, and Jim were active members of Georgia Regional Mustang Club, which met
at John Bleakley Ford in Lithia Springs. The drive to Lithia Springs from Cornelia is approximately 90 miles. After several years of making the drive to meetings, events, etc., Randy and Ricky approached Jim about forming a new club that was closer to home. There was no animosity or ill feelings against Georgia Regional as a club or of its membership, it was a decision based completely on logistics and drive time. It was not a hostile split in the club and many members retained membership in both clubs for years following the start of the new club.
The three met for lunch along with other friends at least once a week and began discussing the possibility of a new club in the northeast part of Georgia. There was immediate interest and the group applied to MCA for a charter. It was approved, and Northeast Georgia Mustang Club was formed. Charter members included Randy Church, Ricky Simmons, Jim Osborn, Don Perry, David Irvin (Cornelia), Bill Dillard (Sugar Mountain), Bruce and Joy Guiney (Lawrenceville), Chris Agee (Loganville), Lee Wilmont (Roswell), and others.
Georgia Regional had assumed responsibility for the Cherokee Shelby Show from Kathy and Bill Harris, of Harris Mustang Supply, located in Charlotte, NC. The Cherokee show began as a Shelby show and was held annually in September in Cherokee. When Northeast Georgia Mustang Club was chartered, Georgia Regional turned the Cherokee show over to NEGMC because it was closer in location and members who were most active in putting on the show were members of NEGMC. The show continued to be held in Cherokee, until there was a water outage that necessitated moving the show. Maggie Valley was chosen as the new location and the show moved there.
According to the original bylaws, all meetings of the Northeast Georgia Mustang Club were to be held in an area centrally located between Habersham and Gwinnett county club members. Bylaws and meeting minutes were compiled and held in notebooks to be handed over to the new secretary upon each election of new officers. Those were maintained while we were club members.
Below is some more information that was retrieved from old newsletters and back issues of MCA's Mustang Times.
Original Founding Members
Chris and Susan Agee
Rosie Agee
Randy and Carole Church
Bill and Sandi Dillard
Randy and Brenda Fleeman
Robert and Joan Gresham
Bruce and Joy Guiney
Tim and Connie Holland
Butch and Barbara Hollingsworth
David and Jean Irvin
Gary and Lawanda Jones
Jacky and Patsy Jones
Pat Justice
Bill and Juanita King
Jim and Sue Osborn
Don and Amanda Perry
Ricky and Carolyn Simmons
Lige and Wini Sims
Todd Welborn
Lee and Kitty Wilmot
List of Club Presidents
Ricky Simmons
Bill King
Randy Fleeman
Mike Fussell
Butch Hollingsworth
Reggie Triggs
John Garrett
David Osborn
Rick Hayslip
Lou Manglass
Steve Harrison
Suzanne Wimbish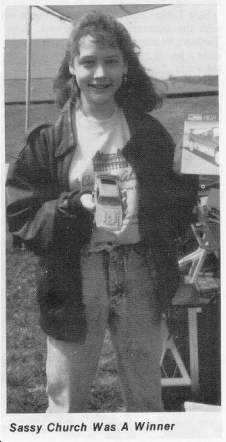 Chateau Elan was the site of our first show held in April 1991.One of our first show winners was Sassy Church in the model car division. A popular youth activity at early MCA shows was the judging of model cars. Sassy attended many MCA National and Regional shows and assisted her Dad Randy with judging the 79 – present cars.
Here is the list of club winners from the 1991 Chateau Elan Show.
641/2 – 66 Open Stephanie King
69 – 70 Ricky Simmons
71-73 Robert Gresham
74-82 Jeremy Church
87-92 Open Sassy Church
Shelby – Randy Fleeman
Special Interest – Lee Wilmot
Best of Show – Ricky Simmons 70 Boss
Show Sponsor was Dugan Racing.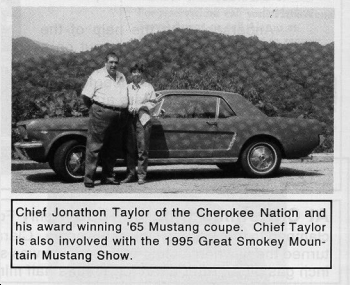 In 1992 NEGMC became the host club for the 19th annual Carolina Regional Meet held in Cherokee, NC. This show was started as an all Shelby meet in 1974 by Bill and Kathy Harris. Georgia Regional also hosted for several years before passing the host duties to NEGMC. Photo on the left is from the 1995 show.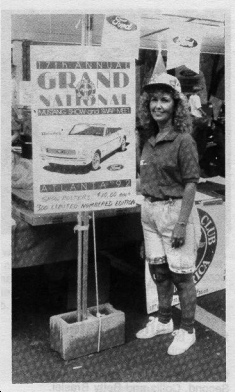 NEGMC held is first MCA national show in 1992 in Atlanta. Georgia Regional, Cherokee Regional and Northeast Georgia Mustang Clubs combined to put on an excellent show.
At the left is Founding Member Juanita King.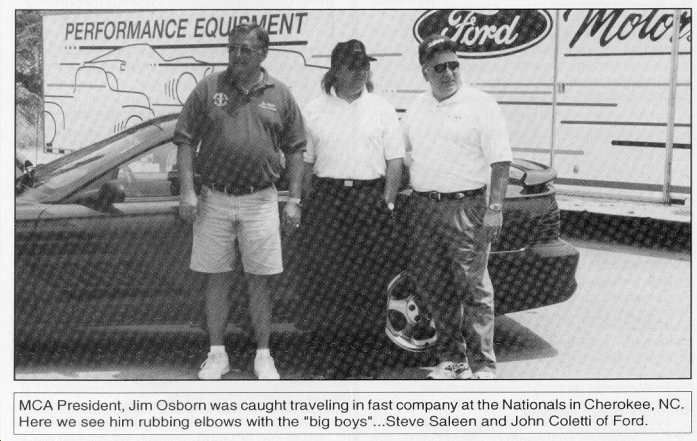 Our Second MCA National Show was held in Cherokee, NC in June 1995.
On the left is founding member and MCA President Jim Osborn with special show guests Steve Saleen and John Coletti of Ford.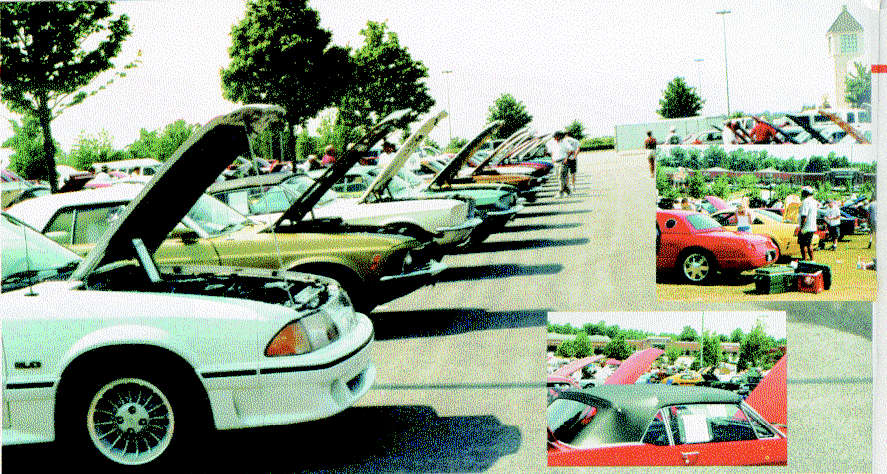 Our last MCA National Show was held in May 2002 at the Mall of Georgia in Buford, Ga.
Our Northeast Georgia Founding Members were greatly involved in the formation and development of the Mustang Club of America.
Founding Members Bill Dillard and Bruce Guiney were present at the 1st MCA meeting held in 1976 at Stone Mountain. Bill joined MCA and became MCA #7. Bruce had his Cougar at the time and did not join until later.
Bill was also a Founding Member of the Cherokee Regional Mustang club in Calhoun, Ga. Bill went on to hold several positions within MCA. President, Vice-President, National Head Judge,National Show Director, Board of Directors,and Gold Card judge. Sandi Dillard was also MCA Secretary for several years. Bill is a member of the MCA Hall of Fame.
Jim and Sue Osborn were also early members of MCA, with MCA #376. Jim also held just about every position within MCA was very instrumental in keeping the MCA alive. Jim was President, Secretary, Treasurer, Chairman, Board Member and editor of Mustang Times. Sue served several years as MCA Secretary, Board Member and Mustang Times Publisher. Jim is also a member of the MCA Hall of Fame. Jim Osborn reproductions was also a critical resource for restorers and hardly a day goes by that I don't reference one of the Osborn assembly manuals.
Pretty cool having two founding members in the MCA hall of fame.
Our First President, Ricky Simmons, was also very involved with MCA. Ricky was a Board Member, Vice-President, National Show Committee Head, Assistant National Head Judge, and most importantly National Head Judge for many years. Ricky was National Head Judge when the MCA transitioned from 1st, 2nd, 3rd to Gold, Silver, and Bronze in the Concours Classes. This was a critical change for MCA.
Randy Church was another founding member that made significant contributions to the MCA. Randy was a Board Member for many years, MCA Treasurer and Assistant National Head Judge. In 1986 or so, MCA decided to expand the classes from 64.5 – 73 to 64.4 to present. That was a huge undertaking adding in the Mustang IIs and the very popular Fox Bodies. Randy played a key role in developing the Judging Rules for the Fox Bodies and leading the judging on the show field as a Gold Card Judge. Randy also started the 20th Anniversary National Owners Association.
Lee and Kitty Wilmot also held positions on the National Board of Directors. Kitty was the MCA secretary for many years and very involved as assistant editor of the Mustang Times.
Randy Fleeman and Butch Hollingsworth also served on the MCA board and Butch also served as Sargent at Arms for many years.
At different times in the late 80s and early 90s, the entire executive team of the MCA was almost comprised solely of NEGMC Founding members. We owe all of these members great thanks for starting our club and building the foundation of the MCA.
I am sure I have missed several other members that also contributed to the MCA by assisting at the many National and Grand National shows held in the Southeast and serving as National Directors or Board Members. If anyone has any additional information or photos, please send an email to the NEGMC.