My Love for Mustangs…
…started when I was 16 years old. My father had a 1965 White Coupe, 289, 2bbl, with black interior, air conditioning and a factory AM radio. The neat thing about it was that its production date was May 7, 1965, which by chance is my production date as well. Dad offered to sell me the car for $2,200.00 and he would even take payments from me. I was too young and too foolish to understand what I had been offered. Instead I passed and bought my own, crimson red 1966 Coupe with a 200 6 cyl, 3 speed stick, black interior, no air conditioning and a non-working radio. One of my neighbors took me to get it and drive it home. It would not go into 1st gear, so I drove it home having to start in 2nd at every light and stop sign. What a pain. Luckily our neighbor across the street and good friend to the family, Jim Feliks, knew cars and could help me work on it. We aligned the linkage and got it going into first. Now for the first big drive with a good friend, Mike McKellar.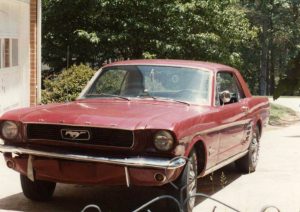 Mike hopped into the car and immediately put his feet through the floorboard. The carpet kept his feet from going all the way through. I was like Holy Crap! When we checked, both floorboards had rusted through. I quickly learned how to use Bondo and fix them. It was a terrible looking job but it worked. In fact it worked so well the next time we got a major rainstorm, I had to bail out the Mustang. Yep, that is right, the windshield and cowl had major leaks and the open floorboards were actually the drain for the car. After a lot of searching and work, we were able to chalk all the leaks and stop the rain from entering the car. But the joys were still popping up left and right. We next learned the reason it kept eating throw out bearings was that is had a 1972 pinto transmission in it. Once we figured that out and got the right parts, that issue stopped. The back driver side rear window had a quick open option. If you touched the window it would drop completely down. Never fixed that issue. Next the heater core cracked and we had an instant sauna in the car. Hard to drive when you cannot see out the window. Then the brakes gave out in front of the Doraville police station with an officer behind me. I ran a stop sign, hit the curb and bounced back to rest at the stop sign. On came the blue lights as I pulled the emergency brake. The officer was very cool and called my dad to come tow me home again. Once home, Jim Feliks taught me how to rebuild the brake cylinders. Only problem was we learned the rear axle was out of a 1966 convertible, which has different brakes. Before anything else could go wrong, I sold the car at a loss to a neighbor and he totally restored it for his daughter; the car turned our beautiful. While I missed the fun driving the 3 speed, I did not miss the constant money leaving my wallet to fix it.
Fast forward to 2010 and my conversations with a customer and friend Matt Bouchelle. He had a 1966 Convertible in Emberglo with two-tone Pony Interior. Once I saw that car, the bug to own another Mustang was back. I started talking to my wife and she told me to save my pennies. After almost dying in 2012, I decided I wanted a 1965 vintage Mustang by my 50th birthday. I put the word out but most all the cars I saw were over priced junk. I wanted a V8 engine and automatic since I have bad knees from catching baseball way too many years. Then it happened. Out of the blue my buddy Matt calls me and through someone at work he had a line on a 1964 ½ Mustang Convertible, white with black interior and top. I told Matt I was interested and he went to see it that night. He sent me 66 photos from various angles only Matt would take. He talked to the person settling the estate and found out it had only 2 owners and was originally bought in Tampa but had spent its first 48 years in California. When the original owner died, her brother got it and brought it back to Brooksville, FL. Matt said if he had the cash and garage space he would buy it. So since I was on the road for work and could not get down there to buy it, he brokered the deal for me. He and another friend Pete Kaszuba went and bought it for me and brought it back to Matt's house.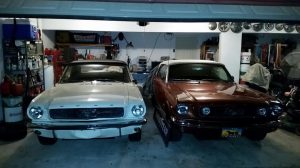 The photo shown is Oreo, my car with Matt's 1966. I trailered it home and am so glad Matt helped me find this great car. She is a 1964 ½ convertible with the 260 V8 2 bbl, automatic, built 8/22/1964 with all original interior, original motor, tranny, etc. with only 82,200 original miles on her. Besides items like new tops and tires, she has only had her radio replaced and power steering added. She still has the original manual brakes which give my leg a workout when I drive her. She has had one repaint in 52 years, but could use another one. She also has double VINs stamped under the hood. She was originally built with a 289 4bbl but it failed after production and was replaced at the factory with the 260 2bbl in her now. Because of this car, I next found the great group of folks in Northeast Georgia Mustang Club, who only fueled my desires more.
Today, I own 3 Mustangs and consider them as a better investment than a 401k. My other two are a white 1997 Cobra Convertible (Ms. CoCo) with low miles and a black 40th Anniversary 2004 Special Edition GT Convertible (Buffy) I recently obtained. If I had the money and garage space I would be adding more, but for now, these are the ponies in my stable.